The 18th Hole
A 330 yard drive down the middle of a fairway, an awesome pitch to the green and a perfect one-putt – strokes of pure joy for a golfer. Practice your finishing touches on your short game right from the comfort of your own home with Bella Turf's exquisite Eagle Putt and Country Club putting greens.
Made to industry-best exacting standards of consistent quality, you will not find better performing putting surfaces anywhere. Available in freeform rolls to match your imagination or pre-assembled, all-in kits, your putting green performance is sure to impress!
Now Bella putting greens also come in kit form - everything you need to create your own Golfing paradise - right in your own back yard! Contact Sharecost for more information.
Eagle Putt
Eagle Putt is composed of the industry's best Nylon 6.0 yarn. The superior look and feel of this high quality nylon gives Eagle Putt the most perfect ball tracking of any putting surface on the market today. All of this combined with a rich, lush colour makes Eagle Putt the benchmark in golfing green surfaces. Sold in 15' wide rolls only, length cut to order.
$5.93 per square foot
Country Club
Country Club was developed to mimic a natural putting green surface in both appearance and performance, while keeping your budget in mind. Country Club has a two-tone polyethylene putting surface made up of field and olive green. This color combination gives it a healthy, lush and natural appearance similar to that of a golf resort. Sold in 13' wide rolls only, length cut to order.
$4.56 per square foot
Putting Green Kit - 20' x 13'
We've taken the guess work out of installing a home putting green by introducing Bella Turf's new D-I-Y Putting Green Kits, available in standard 10' x 13' and a larger 20' x 13' format. For the first time ever, you can now install your own putting green by simply laying out some shapes and putting them together without making a single cut. Using the same quality Bella Turf products that are proven and trusted across Canada, our Putting Green Kits will look and perform just like those installed by the pros. This 20×13 kit shown below comes in either a soft curved kidney bean shape or an hourglass shape. The Putting green surface is our Country Club turf. All kits include a 16 inch Spring Pro grass fringe border that is pre-cut to fit the shape of your green. All supplies required for above base installation are included in your kit. To guarantee you a smooth installation we've included a detailed 30 minute how-to DVD that covers every step of the installation process. From tear out to final touches, you will have pro tips guiding you through each step of the way. See Sharecost for the required gravel and sands you'll need for the base materials under the putting green.
$2799.00 per kit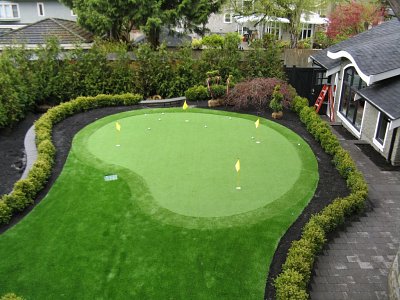 Putting Green Kit - 10' x 13'
This is the classic kidney shaped putting surface that is so popular with our customers. Everything you need to create a smaller surface putting green with fringe, and all the trimmings! See Sharecost for the required gravel and sands you'll need for the base materials under the putting green.
$2049.00 per kit