Your One-Stop Concrete Shop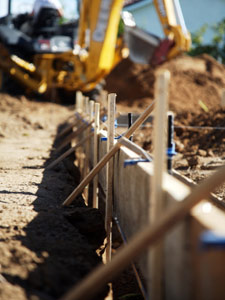 We have everything you need for forming, mixing, colouring, surfacing, and pouring concrete. Our large variety of concrete products cover most applications, including:
Bagged Cements
Type-10/Type-S Cement
Type 10 and Type-S cements are designed for mixing large batches of concrete, generally using a powered cement mixer (rather than by hand).
Both Type-10 and Type-S cements need to have sand and/or gravel added to the mix.
Type-10 Portland – 88 lb bag
Type-S Mortar/Stucco – 66 lb bag
Pre-Mixed/Ready Mix Cement
"Pre-mix", "ready-mix", "Quikrete®" – whatever you call it – these are the cements that require no gravel mixing – just add water! In general, a 55-pound bag yields just under one-half of a cubic foot.
For larger jobs, we recommend using the above Portland Type-10 Cement mixed with Navvy Jack, as it's much more cost-effective. For example, it takes around 65 pre-mixed bags to total a yard of concrete, compared to only one yard of gravel and five bags of Portland Cement.
Concrete Mix – 55 lb bag
Mason Mix (Type-S Mortar) – 55 lb bag
Post-Haste Mix (Fast-Set) – 55 lb bag
Sacking Mix – 55 lb bag
Portland Expanding Grout – 55 lb bag
Bonded Topping Mix – 40 lb bag
Sand/Topping Mix – 55 lb bag
Concrete Supplies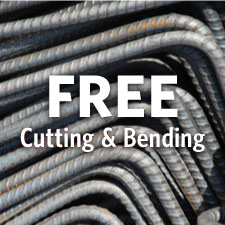 Retaining Wall Adhesive
Gator Edge Paver Restraint
Polymeric stone dust
Polymeric sand
Bonding agent
Concrete/paver sealer
Crack filler
Retardant for exposed aggregate
Rebar (various diameters available)
Quick-Strip ties
Tie wire
Insulated tarps
Finishing tools
... and more!
Featured Products

Retaining Wall Adhesive
We're now carrying the Titebond®-brand Landscape Retaining Wall Adhesive in both 311 ml (10.5 oz) and 858 ml (29 oz) tubes.
Titebond® Landscape Retaining Wall Adhesive is a professional strength adhesive for use on retaining and landscape decorative wall systems. It is specifically formulated for use with concrete, wood, brick, masonry, pavers and most other common landscaping materials.
Weather not perfect? Titebond® works well on dry, damp, and cold surfaces to provide a long lasting bond. It is strong enough to resist water and frost. Pick some up today and see why Titebond® is "The Pro's Advantage"!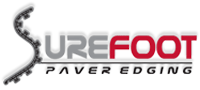 SUREFOOT Paver Edging
Designed BY Installers FOR Installers! The new commercial-grade SUREFOOT Paver Edging system has arrived at Sharecost.
This unique product features a cut-on-the-go system that incorporates STRAIGHT and FLEXIBLE paver edging in a single piece. Reduce costly labour time and go with the fastest install of any edge system available.
Pieces are 8-foot length x 1-5/8" height, include integrated connectors, and are made from 100% recycled material.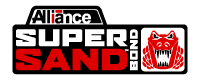 Super Sand
We're proud to be the premier Vancouver Island supplier for Alliance Designer Products Inc.'s polymeric sand for paver joints, Super Sand Bond.
The Super Sand is designed for paver joints up to 1" wide, and is available in two colours: Slate Grey or Beige. The bags weigh 50 pounds and cover 65–85 square feet.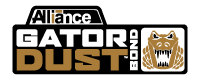 Gator Dust
Along with the Super Sand Bond above, we're also stocking Alliance's polymeric stone dust for natural stone, Gator Dust Bond.
The Gator Dust is made specifically for natural stone joints 1/2"–4" wide, and is available in two colours: Stone Grey or Sahara Beige. Bags weigh 50 pounds and cover 20–30 square feet.
Top-Quality Brands






More than cement & supplies.
On top of our wide range of concrete supplies, we also offer form rentals, cement mixer rentals, concrete saw rentals, and bulk gravels.
We also offer material and supply delivery, a concrete block-cutting service, a form design service, and more.
You could say that Sharecost is your one-stop concrete supply store.
Get started.
Phone us at (250) 758-2401 or visit our store at 1716 Northfield Road in Nanaimo, BC and get started on your concrete project today - we have everything you need to get the job done right.