Question? Call (250) 758-2401 to speak to our knowledgable staff.

We can deliver any of the products that we sell – and fast!

Stop by our yard to discuss your project – bring your plans!
Services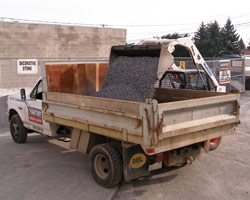 We're much more than simply a rentals and sales outfit - we also offer a range of services designed to save you time and money.
Delivery
Careful, correct, and quick.
Book a delivery today by phoning the store – we can almost always offer same-day service on our bulk products.
Patio & Wall Design
Pavers, slabs, blocks, stone – we're hardscaping experts.
Our certified staff can design an interlocking paver system that's both beautiful and long-lasting. We also have a saw set up in-store for cutting paving stones and retaining wall blocks.
Form Design
You home needs a solid foundation.
Take advantage of our expertise and have us design your foundation form plan. Bring in a plan (or send it by email) and we'll create a drawing for you to follow while you build.
Rebar Bending/Cutting
Cutting & bending FREE with purchase.
We sell 20-foot lengths of 3/8" (10mm), 1/2" (13mm), and 5/8" (15mm) rebar. As an added bonus, we will cut and bend any rebar bought from us at no additional charge.
Block Cutting
Cut to fit.
If you need to cut a small number of pavers, blocks, or slabs, our on-site block cutting service is convienient, quick, and inexpensive.
Here to Help
Our advice can help you save money on hiring professionals: rent the right tools, do the work yourself, and save money on the labour.
Keep browsing this website – or call (250) 758-2401 – for more information.