Phone & Fax
Phone: (250) 758-2401
Fax: (250) 758-0641
Email: info@sharecost.ca
Our Address
Sharecost Rentals & Sales
1716 Northfield Road
Nanaimo, BC V9S 3B2
View Map
Store Hours
M-F: 7:30am – 5:00pm
Sat: 8:00am – 4:00pm
Sun: Closed
View Holiday Hours
Holiday Hours
Family-owned & operated.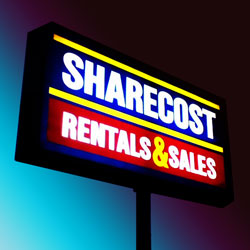 Sharecost Rentals & Sales is proud to be locally owned and operated. The current owners have been involved in the company since 1997.
We're proud of our ability to provide superior service and products, all while competing directly with the big-box prices; shopping local has never been easier!
We are conveniently located in Central Nanaimo at 1716 Northfield Road. You can access Northfield Road from the Old Island Highway or Bowen Road; there is also a Northfield Road exit off of the Nanaimo Parkway.
Wondering who we are?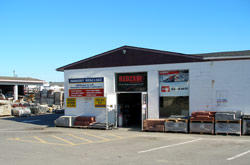 There's no doubt that Sharecost Rentals & Sales is a lively, happening place. We offer top-quality rental equipment, a huge range of delivery options and helpful services, and a well-stocked sand & gravel yard - and we're conveniently nestled in Central Nanaimo.
To make sure that your experience with us is a great one, we've stocked our shop with the friendliest and most knowledgeable sales and service staff you've ever met. Our team is focused on helping you accomplish your goals, whether you're a homeowner embarking on your first retaining wall, or a professional landscape contractor building your hundredth.
Service
We're staffed with enthusiastic & educated people that have hands-on experience with all sorts of home, landscape, construction, industrial, and commercial projects. (And we're not going to leave you to fend for yourself when it's time to load the car with your new paving stones, either.)
Stop by and meet them for yourself!
Selection
Thanks to our large inventory and obsessive technicians, we can make sure you're renting the proper tools, laying the correct gravels, and preparing for long-term results. We want to know what you're doing so we can assist you to the fullest.
You can view examples of our rentals, landscaping supplies, building and contstruction supplies and services.
Satisfaction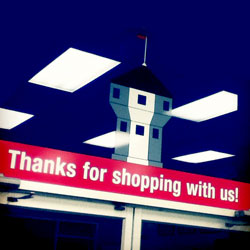 When your project is done, we'll ask how the trench digging went, what your top soil's like, how easy your rental was to operate.
We want to hear about how you've edged your lawn, what patterns you chose for your new walkway stones, and how you mixed 3 types of gravel for a unique look that has become the talk of the neighbourhood.
Why?
Well, because we care. We're interested. And, we know we can learn a lot from each other. Besides, it's good to accomplish something and share your excitement with others, don't you think?
See for yourself!
Come on down! We'll discuss that new patio you've been dreaming about for the past five years. We can help you make it happen! Our shop is located at 1716 Northfield Road, in central Nanaimo.