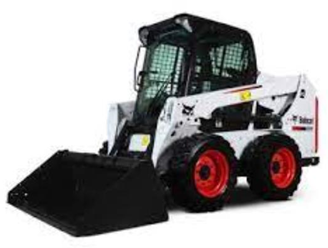 Engine: Kubota / V2607-DI-T-E3B-BC-2
Weight: 6,213 lbs
Height: 77.5"
Width: 64.75"
Operating Capacity: 1750 lbs
Fuel Capacity: 93.7 liters (approximately 9hrs)
Fuel Type: Diesel
The heated cab offers the operator greatly improved protection from the elements. Rental includes a flat-edged (clean-up) bucket.
POPULAR
APPLICATIONS
A versatile machine, applications for the S550 include: working in adverse conditions, such as snow; material handling: loading pickup trucks, trailers, and small dump trucks; skid-steers are also great for moving material. The S550 is also well-suited for scarifying, and leveling ground, as well as backfilling trenches. Of course, with the right attachment, a Bobcat skid-steer loader can be adapted to suit almost any project.
AVAILABLE ATTACHMENTS
Please see below for our skid-steer loader attachments.
RENTAL
DETAILS
rental is for a 24 hour period and the minimum fee is 2 hours of engine time
additional engine time is billed at $12/hr
fuel (diesel) is billed per litre upon return
delivery/pick-up is an additional charge
please contact us with any questions