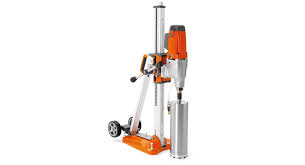 Cores holes 1.5"-8" in diameter. Note: rental price does not include bit rental.
The Husqvarna DMS240 Diamond Coring Rig cores neatly into concrete, stone, and asphalt. Operating either as a handheld or stand-mounted unit, the DMS 240 works as a water assisted system, and will core holes 1.5" through 8" in diameter. Please note that the coring bits are not included in rental (see below).
When using on a clean, smooth, horizontal surface, consider using the vacuum pump (Item 5424) to secure the rig for drilling. Insert the vacuum head into the rig stand, matching up the arrows prior to engaging the pump.