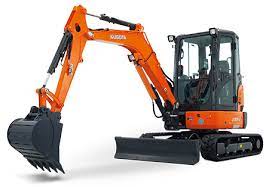 Access those tough-to-get-to-spots with the ZERO-TAIL SWING 3.5 tonne U35-4 Kubota excavator!
The Kubota U35-4 is a near-zero tail swing machine that excells in most landscape jobs and for anywhere you need to dig in tight spots, such as beside a building for a perimeter drain install. A real powerhouse for its size!
CRITICAL SPECS.:
*Operating Weight – 8,451 lbs.
*Maximum DIG depth – 9'-9"
*Reach, from machine centre – 17'-3"
*Maximum dumping height – 11'-1"
*Lift Capacity (over front of machine) – 1,280 to 3,300 pounds dependant on radius of lift from machine centre
Length x Width x Height = 15'7" × 5'-7" × 8'-1"
Fuel, capacity – DIESEL, 47 L
FEATURES:

Rubber Tracks
Auto idle system for reduced fuel consumption
Lights
Dozer blade with float function
Thumb
18" wide toothed digging or 36" smooth edge clean up bucket
Adjustable maximum flow on auxiliary hydraulic circuit
Two-speed travel, 3 and 4.6 km/h
Boom can also swing independant of cab, when needed


Work in comfort…
The U35-4 raises the standard in 3.5-ton excavator comfort with a spacious cab that rivals larger excavators. The luxurious cab features a wider entrance, greater legroom and a deluxe seat. Operation is greatly enhanced with more easy-to-use features than ever before.