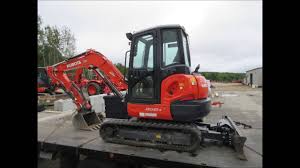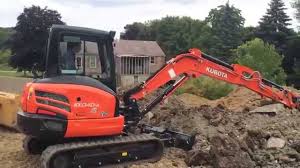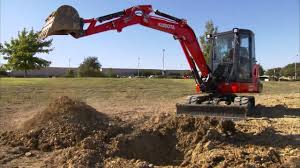 Weight: 9,500 lbs
Height: 98" (8'2")
Width: 67" (5'7")
Fuel Capacity: 64 L, Diesel only
Horsepower: 40.4
Attachments: 18" and 24" Digging and 36" Clean UP Bucket
Operating Lift Capacity: 2,720 lb
Ground Breakout Force: 9,535 lb force
Maximum Reach at Ground Level: 7'2"
Maximum Dig Depth: 11'3"
Maximum Dump Height: 12'9"
This machine has rubber tracks – not for operating on shot or blasted rock.
The Kubota KX040-4 combines superior strength, versatility and performance to deliver one of the most balanced excavators on the market. Incorporating industry leading technology, the Kubota KX040-4 produces less noise, reduced emissions and is equipped with eco-mode, which can generate fuel savings by up to 20%. This is a great 4.5 tonne mid range machine!
Fuel Efficient and Quiet…
The Common Rail System (CRS) electronically controls the fuel injection timing and amount in stages rather than all at once for optimal combustion. The results are great efficiency, better fuel economy and less engine noise. Its combination with the Exhaust Gas Recirculation (EGR) and Diesel Particulate Filter (DPF) Muffler reduces harmful emissions to make the KX040-4 Tier IV-compliant.
Work in comfort…
The KX040-4 raises the standard in 4-ton excavator comfort with a spacious cab that rivals larger excavators. The luxurious cab features a wider entrance, greater legroom and a deluxe seat. Operation is greatly enhanced with more easy-to-use features than ever before.