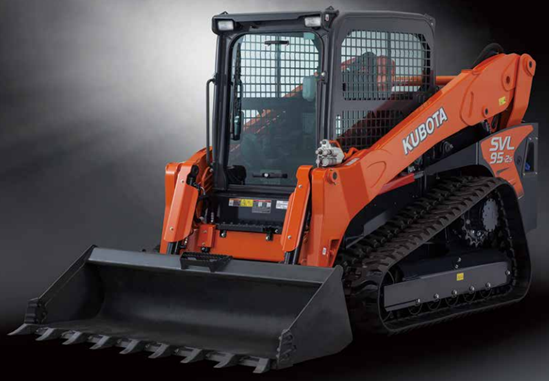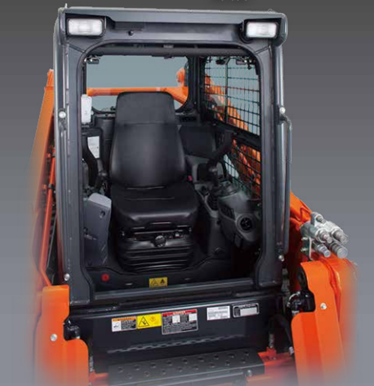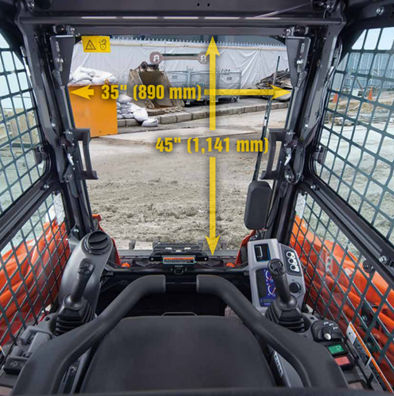 Weight: 9,314 pounds (4,225 kg)
Height: 82" (2,083 mm)
Width: 65.9" (1,675 mm)
Track Width: 12.6" (320 mm)
The Kubota SVL75 compact track loader offers a vertical lift path, giving you maximum forward reach at flatbed truck height for a variety of grading, digging, trenching, and backfilling jobs. With the enclosed cab and air conditioning, you'll work in comfort and get improved visibility of your working area. The SVL75 delivers best-in-class bucket breakout force and lifting capacity, outstanding stability, a wide comfortable operator area, a strobe light for visibility, high flow hydraulics, and much more. Rental of the SVL75 track loader includes a 68" wide digging (toothed) bucket and/or a 74" wide clean-up (flat edge) bucket.
This unit operates on hand controls only.
Specifications
Cab Type: Closed
Engine Power: 74.3 horsepower
Rated Operating Capacity: 2,300 pounds (1,043 kg)
Tipping Load: 6,570 pounds (2,980 kg)
Breakout Force (Bucket): 6,204 pounds (2,814 kg)
Breakout Force (Lift Arm): 4,766 pounds (2,162 kg)
High Flow Hydraulics Maximum Displacement: 110.9 L/min
High Flow Hydraulics Maximum Pressure: 3,185 psi (22.0 MPa)
Fuel Tank Capacity: 93 litres (diesel)
Popular Applications
With its 74.3HP engine, the SVL75 is suited for a variety of projects. This machine excels at moving material, whether you are pushing piles or loading pallets with the (optional) 42" forks, and because it has tracks instead of wheels, the SVL75 allows you to extend your season by working more productively in soft, sandy, wet or muddy conditions.
Rental Details:
DO NOT run machine on hard shot/blasted rock – this will damage the rubber wheels.

Customer accepts the responsibility for: damage to machine and/or flat tires/tracks; repairs; and all liability which may occur as a result of injury to persons or property during rental beyond normal wear and tear.
Check for buried cable or gas lines before you dig.
Maximum allowance of 8 hours per 24 hour period. Additional engine hours are billed at $25 per hour over the maximum allowance per 24 hour period.
After the machine is on site for 25 hours a second day rate will be charged with an additional 8 hours of engine time allowed.
Up to 40 hours of engine time is included per week rate. Machine can be on site for up to 7 days for week rate.
Monthly rate is on a quote basis and is calendar month day to day.
Machines used for snow-plowing are on a quote per-use basis only.


PLEASE

CALL

US

for equipment pick-up.
Fuel (diesel) is billed per litre upon return
Delivery and pick-up is not included in rental price. For delivery rates and details, visit our delivery section, or contact us.