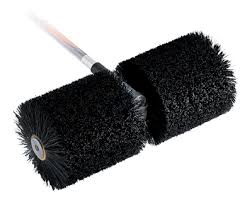 The PB270 has a 23" wide sweeping path and a 1.5 HP gas motor.
Whether you're cleaning up, spreading or preparing a surface, the PB270 PowerBroom delivers the extra power you need. Designed for continuous, heavy-duty operation, the PB270 can do the job more efficiently than any other method.
Use of this tool is essential for professional artificial turf installation. The power broom head will work the infill material evenly into the base of the turf fiber which is needed for proper fiber support, as well as place the infill as ballast for the entire field.