Keeping Dry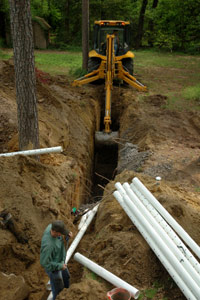 In order to protect the foundation of your house from the damaging effects of water - cracked walls, damp crawl spaces, and flooded basements - proper drainage is absolutely critical.
Drainage products:
Solid 4" flexible Big-O pipe
Perforated 4" flexible Big-O pipe
Big-O fittings
4" Solid PVC (CSA and non-CSA)
4" Perforated PVC (CSA and non-CSA)
3" Solid PVC (CSA only)
4" and 3" PVC fittings
PVC glue and primer
Filter fabric
Landscape fabric
NDS channel drains & grates
NDS catch basins & grates
NDS Pro Drainage Solutions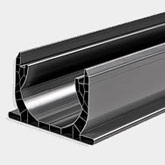 NDS Spee-D Channel Drain System
For residential and non-residential applications, the Spee-D Channel provides a quick and simple alternative to traditional concrete channels. The Spee-D Channel System snaps together easily for a smoother installation, and with channel grates available in a variety of colors, the grate can be matched to the surrounding surfaces.
The Spee-D Channel System has an open surface area of approximately 19.30 square inches per foot. The most popular applications for this channel include swimming pools, spas, and patios.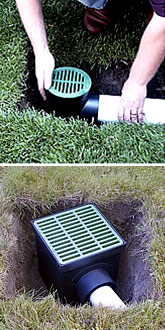 NDS Catch Basins & Grates
We stock a complete line of NDS Pro catch basins and grates for residential and commercial stormwater management solutions. NDS catch basins have a sump area that collect debris and prevent clogging of the pipeline, and grates are available in a variety of colors to blend in with surrounding surfaces. Depending on the size of the round, square, or atrium grates, they may fit directly into a riser of pipe, sewer and drain fitting, or our catch basins.
Call For Pricing
Because of the nature of the petroleum industry, PVC pricing can fluctuate regularly. Please phone us at (250) 758-2401, or visit us at 1716 Northfield Road in Nanaimo BC for current pricing.