Nanaimo's Landscaping Experts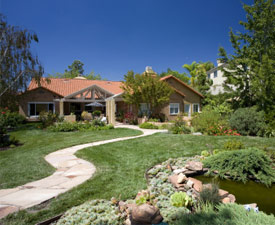 A quality landscaping project largely depends on two factors: the quality of the materials used, and the proper installation of those materials. We only stock materials that are proven winners, and our expert staff can help guide your project to a successful completion.
Proper materials.
We go to great lengths to make sure you've got the right materials for your project. For example, raised planters are often built with chemically treated wooden landscape ties. Despite being chemically preserved, even this wood will rot within 10 to 15 years due to our wet climate.
We do not sell landscape ties (despite customer request) because there are better, less wasteful options available.
In place of landscape ties we offer a large selection of concrete retaining wall blocks, paving stones, plastic and stone edging, Vancouver Island slate, and more.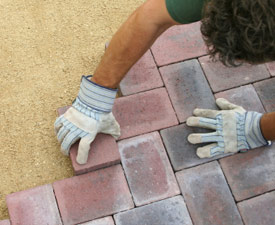 Proper installation.
Most importantly, we have the know-how to guide you in building a professional hardscape that remains solid, while your beautifully landscaped garden grows up around it. You will be amazed at what you can accomplish yourself.
Visit our showroom.
Because it's hard to accurately show colours on a computer screen, we encourage you to stop by our store at 1716 Northfield Road in Nanaimo, BC and have a look at our products for yourself.
We have a large selection of landscaping materials on display for you - both in our yard and inside our showroom! Phone (250) 758-2401 for details.
What We Carry
Sand & Gravel Mart (pick-up or delivery)
Decorative Stone Products
Landscape Edging
Block Wall Adhesive
Polymeric Stone Dust
Polymeric Joint Sand
Paver Edging
Grass Seed
Dolopril (lime fertilizer)
Landscape Fabrics
Lawn & Garden Edging
Hand Tools (Shovels, Rakes, etc.)
And so much more!
Remember our rentals!
In addition to all the products listed above, we carry a large selection of Landscaping Equipment Rentals that can help make almost any landscaping job easier.
Looking for something specific?
Even if you don't see what you're looking for in the lists above, chances are we either stock it, we can order it in for you, or we can direct you to someone that does have it.
Give us a call at (250) 758-2401 if you have any questions, for pricing, or for advice. We also encourage you to come visit our showroom at 1716 Northfield Road in Nanaimo to have a first-hand look at our large stock of landscaping materials.